Tyler & Lucas' Scandinavian MCM Room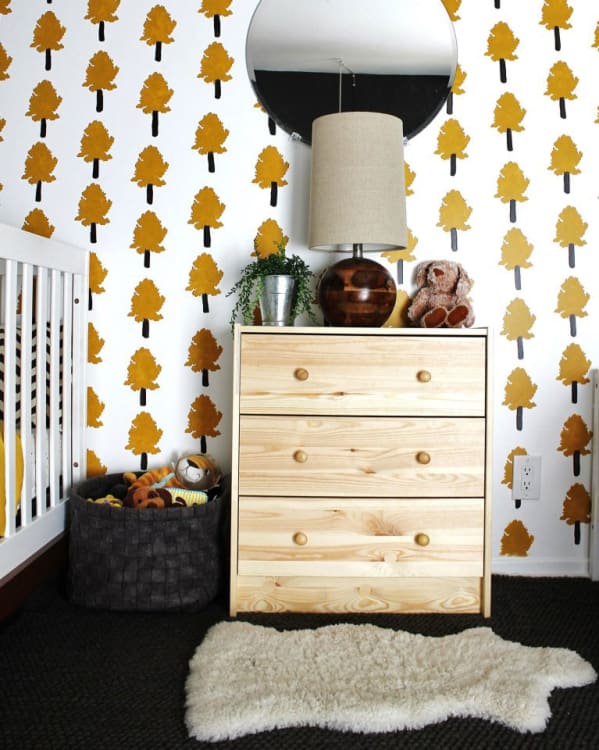 Name: Tyler (2 years) & Lucas (8 months)
Location: Los Angeles, CA
Room Size: About 10x12 ft
Joy Dolan was just starting her interior design business when she and her husband Mike decided to add adoptive children to their family of 4 biological children. When they fell in love with a sibling pair from the Los Angeles foster care system, they fostered them and completed their adoption in about one year. Only a few weeks later, they were notified of another sibling born, who was also up for adoption. The family decided to take all three children, and of course they needed new rooms for their kids. Joy put together a beautiful room for Tyler, her 2-year-old daughter, and Lucas, her 8-month-old son.
With 7 children, Joy and Mike are on a tight budget for home design, but Joy enjoys the challenge of creating the look she wants with pieces they already own or items she can tweak to make work. The large dresser in the nursery was originally in the master bedroom, but the 2 babies needed the storage more than the adults did. The mirror was originally in a hallway, and the lamps were both in different rooms but worked well with this room's design. Some shelves and artwork were previously in an office.

How would you describe the look and feel of this room?
I wanted the room to work for both my daughter and my son. I think the space feels happy and child friendly, but is also stylish and will work for the kiddos for a few years. It is warm and cozy. I have a few MCM pieces, some Scandinavian looks, and a few pieces with modern, clean lines.
What is your favorite piece or element?
I would have to pick the stencil wall. It definitely is what sets this room apart from other nurseries I've seen.
What was the biggest challenge decorating this room?
Finding the time! I would paint a few trees in between naps or feedings. I hate not getting a painting project done in one or two sittings. I had no choice but to be patient with this one.
I adore your stenciled wall. Which came first: the idea for the stencil or the color palette and style of the room?
Thank you! I spotted a wallpaper on a Scandinavian blog site one day and I loved it so much I had to come up with a way to get the look without shoveling out big bucks. I spent maybe $12 on the stencil and under $10 on the paint. I have done some stenciling before and knew this project would be a major undertaking, but so worth it! It's such a big statement wall that everything else I used had to be somewhat subtle.
Which parts of the room, aside from your stenciled wall, are DIY?
I am very picky about pattern and most of what I find in stores is either not my taste, or out of my price range. Years ago I discovered the gold mine of amazing fabrics online and had a friend teach me the most basics of sewing. I made all the comforters, curtains, and all but one pillow in the room. My hubby helped me with the faux hanging rope mirror. The dresser was an ugly yellow oak piece which I painted, stained the drawers, and added legs to.
Do you have any advice for people designing on a budget?
I keep a folder of photos of any design that inspires me. Once I have a project in mind, I pour over my catalog of pictures to narrow down the look I want to achieve. I am a Craigslist and swap meets addict and love to hunt for similar items that I could paint, add legs to, or re-cover.
You have an appreciation for Scandinavian design. Are there any particular designers or brands that inspire you the most?
I love them ALL! When I have the time, I love searching through blogs and even Scandinavian realtor sites to get inspired. I love the bright whites and natural elements used in their design. A few of my favorites are My Scandinavian Home, Emma's Design Blogg, and From Scandinavia With Love. I don't buy much in the way of furniture from Ikea, but I like many of their ideas and think their accessories are great.
If money were no object, what are your dream sources?
midcenturyLA, Danish Modern L.A., Blu Dot, many mom and pop shops on Craigslist specializing in vintage restorations, Design Public, and All+Modern.
Source List:

Apartment Therapy supports our readers with carefully chosen product recommendations to improve life at home. You support us through our independently chosen links, many of which earn us a commission.