The Best Carry-On Luggage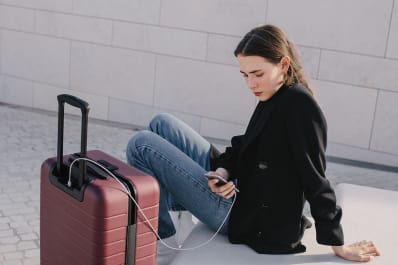 (Image credit: Courtesy of Away)
Along with accommodations and weather, your suitcase can make or break a trip. Losing your bag or breaking a wheel is the stuff of travel nightmares, and the everyday frustrations of carting around your belongings and facing an unorganized mess every time you open your suitcase get old fast. Finding that perfect carry-on for your needs is a real gamechanger, so we've rounded up our favorites at every price point and for every traveler. Whether you're an adventure junkie or consummate tourist, you're guaranteed to meet your match.
---
How This Works
Every week we research new product categories and bring our final picks into the office, where we haggle and decide which ones make the final list. Everything is based on quality, appearance and price. These are what we could choose for our own home.
---
Maxwell: The luggage field has officially broken open, and no long is it ruled by the brands your parents owned. In our all office voting, the prize went to newcomer Away, and Nicole, who just moved to NYC to work at Apartment Therapy perfectly summarizes the collective passion for this modern, hard shell carry on:
"I have an Away suitcase, and I'm obsessed with it. The hard shell is indestructible (seriously — it comes with a lifetime guarantee, and in the unlikely event that something DOES break, they'll replace it), but still has a little give to accommodate that extra stuff. It comes in two carry-on sizes and lots of colors, plus fun stickers to give it more personalization. It fits way more than the average carry-on due to the thoughtful internal compartments, and comes with a USB port for charging."
Note: Lately there has been a lot of fuss about smart luggage being banned from airlines, but that's simply not true. The luggage itself isn't banned, but the internal batteries for charging aren't allowed in the cargo holds of most planes. If you're carrying on your carry-on then you have nothing to worry about. If you have to check it, just pop out the battery (it's super easy and requires no effort) and put it in your pocket or bag.
---
Our Best Luggage Posts:
---
LOW
A great budget-friendly hard shell option, the Winfield 2 is durable, lightweight and actually attractive compared to other hard shells. It's not the roomiest on the list, nor is it expandable, but it has the Samsonite reliability and quality for less money.
---
Our top pick on the low end, the Travelpro Maxlite 3 is a favorite of many in our office. Although it's not a hard shell, it holds up well and is super lightweight — perfect for hauling around airports and cities. One of the best parts about it, surprisingly, is the handle, an overlooked piece of the suitcase puzzle. This one is extra-cushioned and comfortable, so you won't get blisters.
---
This glossy, stylish bag from Delsey is small and unassuming, but has the hard shell that many travelers today prefer. The French luggage brand is known for quality and functionality, and the Aero line is no exception.
---
MEDIUM
Designed for adventures rather than trips, this rolling duffel from Victorinox (makers of the Swiss Army Knife) is nothing if not versatile. It has pockets galore, an ultra roomy interior and a back compartment for shoes. Like a normal duffel, it doesn't have any internal supports, but that also makes it incredibly lightweight — 5.1 pounds, to be exact.
---
The Raden A22 is one of the first examples of smart luggage. It's small, sleek and stylish, with a range of fun colors to choose from. It comes with a removable battery to charge your phone on the go, and — best part — the handle doubles as a scale so you know exactly how much your bag weighs before you leave for the airport.
---
Another option for adventure seekers, the Patagonia Headway is built for heavy travel. It's exceptionally roomy, won't tip over, and is made with water-resistant fabric. Rest assured, this bag will hold up well over time thanks to Patagonia's use of high-quality materials.
---
HIGH
Our top high-end pick, this collaboration between Arlo Skye and Sight Unseen makes luggage pretty. It only comes in this gorgeous neutral sage tone, but we're not complaining. A huge advantage here is the lack of zippers — instead, you'll find two buckles, both with their own TSA-approved lock. This suitcase also comes with a colorful laundry bag and two shoe bags to hide your dirty clothes.
---
Briggs & Riley is a long-standing favorite of frequent travelers, and it's no surprise why. This carry-on is ultra classy and durable, with CX compression-expansion technology to ensure extra room and a hanging garment section to keep your finer clothes wrinkle-free during travel.
---
This carry-on from Tumi is seriously heavy duty — it's made of Tegris, a material used in armor, race cars, and NFL protective gear. In fact, Tumi has the exclusive rights to use it on the travel market, so you won't find it on any other suitcase. Aside from its durability, the Tegra-Lite also has a hanger racket for suits and expands two inches.
---
If you're really looking for luxury, you can't do better than this smartly crafted carry-on from Italian leather goods designer Serapian Milano. It's small but deep, with plenty of interior and exterior pockets to fit all your essentials. If you want to feel like you're traveling to a Mediterranean villa instead of a business meeting, this bag is for you.
---
Tips for Packing a Carry-On
Start with everything you'd like to bring. I do this trick and find that it's really helpful. Take out everything you could bring if you had endless space and time, lay it on your bed, and start cutting stuff out. This practice forces you to consider each piece of clothing and whether or not it will truly be needed, so that you won't second guess yourself later.
Pack mostly tops and neutrals. One pair of jeans can go a long way — focus more on tops and cardigans to shake things up without wearing a completely different outfit every day. Also, try sticking with neutrals that can go with anything. That bright jumpsuit that only goes with one specific jacket and pair of shoes might look great for one day, but isn't exactly practical.
Consider packing cubes! Every organization lover's dream, packing cubes let you truly make the most of your carry-on. Pack your tops in one cube, pants in another, and underwear in a third — you'll never have to rummage through your overstuffed suitcase again.
---
Other Good Resources:
Apartment Therapy supports our readers with carefully chosen product recommendations to improve life at home. You support us through our independently chosen links, many of which earn us a commission.