Surprise Swings Are Popping Up Around San Francisco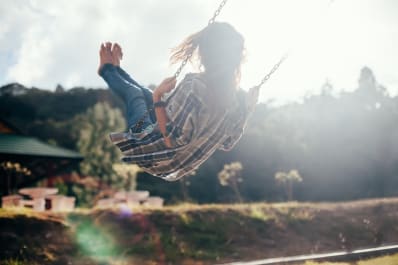 (Image credit: Viktor Gladkov/Shutterstock)
One thing's for sure, we could all use a little more play in our lives. Luckily, a group of guerrilla artists-engineers-merriment-makers have secretly set up over 50 swings around San Francisco, delighting city dwellers and frustrating public officials.
Swing Bomb SF has set out to turn the city "into a pop-up playground". "We decided to create a present for the city, where it would wake up one morning and have a moment of surprise," an anonymous swing team member told San Francisco Weekly. The swings are in a variety of locations and neighborhoods by design, as the team hopes they'll reach as many people as possible.
Not everyone is in love with the project, however. The San Francisco Parks and Rec department is currently taking the swings down. The swing installers did not receive official permits and the department is understandably concerned with safety. "They did not come to us for us to take a look at what they wanted to do, so that we can ascertain that this is safe," Operations Manager Dennis Kern told ABC 7.
The swing bomb team says they had an engineer on hand to make sure they were creating as safe an environment as possible. There's no official map for the swings, as the team is trying to stay one step ahead of the Parks & Rec department.
h/t Inhabitat