Before and After: A Stylish Upgrade for a Boring TV Wall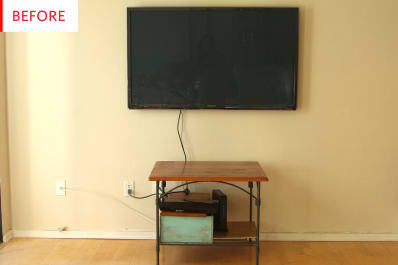 (Image credit: A Piece of Rainbow)
Televisions bring so much beauty into our lives — the natural wonders of Planet Earth, the edible masterpieces on The Great British Bakeoff, Terry Crews' majestic strength on Brooklyn Nine-Nine, the general splendor of Tahani on The Good Place — but tvs themselves are often an eyesore. Let's explore how this wall went from functional but flat to functional and fabulous . . .
(Image credit: A Piece of Rainbow)
This wild wonderland was created by Ananda of A Piece of Rainbow, and it's such a magical upgrade over the original blank wall with a TV plonked on it (no judgment — that's how most of our TVs are, right?). I love the levels that were added, with the play of plants and art extending from floor to ceiling. It's like a refined, at-home conservatory.
(Image credit: A Piece of Rainbow)
Ananda's new tv is The Frame by Samsung which is designed to look like a framed piece of art but you can achieve a similar effect with any flat screen tv. The idea is to create a beautiful wall landscape which a tv can be nearly disguised within.
The shelves, stool, crates, and benches that Ananda has gathered are perfectly flexible and accommodating, and their tastefully minimal style doesn't distract from the plants' glory. Using wood pieces that are close in hue to the wood of the floor was a smart move for unifying the space. Here's how Ananda feels about this project, now that it's complete:
It is more beautiful and more functional. It really has become a canvas that changes with the seasons, a place to celebrate life's beauty and adventures.
You don't need a new TV to do this. It is so worth it to make a space more beautiful and inspiring!
Thank you, A Piece of Rainbow!