Quick Tip #27: How to Move Heavy Appliances More Easily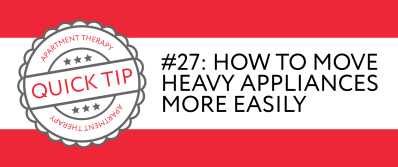 Every well-run home is teeming with tricks and shortcuts to keep it humming along. We're sharing our best quick tips — for cleaning, organizing and repairing stuff at home — to save you time and money. Click through for today's helpful hint, and links to tons more...
Use GLASS CLEANER! If you have a hard floor, spray a little bit right in front of the feet and start to push the heavy, cumbersome appliance. With the help of the window cleaner, it will slide with ease.
MORE HELP
Our Sites:
Around the Web: