Watch People Reenact Olympic Curling With Cleaning Supplies In This Hilarious Viral Video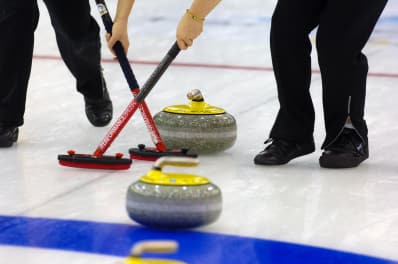 (Image credit: Paolo Bona/Shutterstock)
Since its debut at the Olympics in 1998, perhaps no winter sport has captivated our collective curiosity quite like curling. Turns out, thanks to two fans watching at home, all you need to get in on the action and try it out for yourself is hiding right in your cleaning closet.
On the 20th anniversary of its Olympic inception, curling is having a moment with this incredible viral video showing two women creating a DIY curling event in their foyer using a Swiffer and a Roomba — and it's time to celebrate all things curling. But especially how the quizzical winter sport has swept us up wholeheartedly, both in serious fascination and silly parody. (Sorry, couldn't resist.)
From The Onion's "cat curling" to The Simpsons' "Boy Meets Curl" to the regularly printed, gendered-chore Sunday funnies (hello Maxine and Olio by Marilyn), we've spent two whole decades spoofing curling — and we're pretty sure the athletes know we're laughing with them, if they're not already creating the comedy themselves. (I give you the fashion show of crazy pants by the Norwegian Olympic team as Exhibit A.)
So when Whitesville, Kentucky mother-and-daughter team Debbie Connor and Tara Groves posted their Olympics-at-home-hack for curling to Facebook yesterday, using a Swiffer and a Roomba, of course there were 25 million (and counting) viewers just waiting to love it to pieces and help it go viral.
Connor and Groves posted an updated message to Facebook this morning, in the wake of their newfound fame:
Tara and I never dreamed this video would go viral!! We both would like to say that we are beyond happy that this has been accepted in a positive way. Our hearts are full and so thrilled that everyone took a little "break" and just smiled and had a good laugh! Happiness is the best! Hashtag Ellen for us so we can spread more happiness! Thank you very much!!"
Because, what we all needed today is to take a break, smile, and laugh. Thank you, ladies, truly. You're topping the Pyeongchang podium in our minds.