Allow Michael B. Jordan To Teach You How to Iron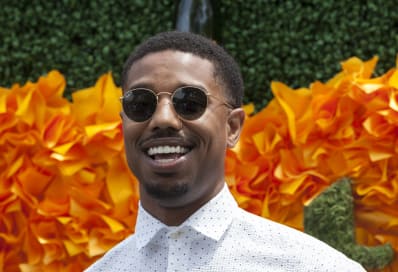 (Image credit: lev radin/Shutterstock)
If acting doesn't work out for Michael B. Jordan (doesn't he have a major movie coming out today or something?) he's got a future in home ec. In this incredibly charming video from Vanity Fair, Jordan professes his love of ironing, offers up tips for the perfectly ironed (but not too crisp) shirt, all while wearing a tuxedo.
He mentions that his father was in the military so he learned how to iron shirts and make beds with a certain amount of precision. He took over ironing duties pretty early on and "found the joy in it":
"It's therapeutic, you know. It soothes you. Calms you down...have some candles lit, some incense or something."
I guess when you're Michael B. Jordan, anything and everything is sexy. There's actually probably something to be learned about finding the tasks at home that relax you, but I understand if you were distracted by his repeated advice to use "slow...deliberate...strokes."
In the same video series, Oprah shared that her secret talent is... stain removal! She says she mastered the fine art of stain removal because she's had a whopping twenty one dogs over the years.
Oprah's favorite way to remove stains: club soda + "blot and fluff" + a small amount of dishwashing liquid + more club soda. Feel free to skip to 2:10 if the idea of Oprah saying "who even knew that we spilled poo!!" intrigues you.
Stars! They're just like us! Except their secret talents are our everyday life activities. It is, however, a testament to the charisma of both Oprah and Michael B. Jordan that these videos were pretty entertaining.