10 Reasons Why Menards Has Such a Huge Cult Following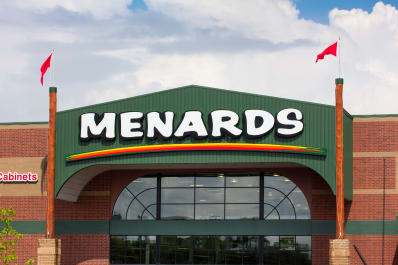 (Image credit: Ken Wolter/Shutterstock)
Hi, my name is Sarah Smith and I am a ridiculously devoted Menards shopper. Now, please understand: this doesn't just mean that I like the store and shop there often. At this point, I may as well have my own cot in the lumber yard so I can just spend the night and be there when it opens again in the morning. Why you ask? Oh child, you just don't even know, but let me enlighten you. Then maybe you can get a cot too —or wait — bunk beds! Here's why I am such a devoted shopper and why you should be too.
I know what you're thinking. "Menards must be paying for this post." So let me be clear up front. This is not a sponsored post. I just seriously love this store. I am many things, but at the top of the list is being passionate about saving money and using a retailer to their advantage. I wasn't always a Menards fan. I just happened to marry one. I come from the land of Lowe's and Home Depot but, when I met my husband, all that changed. For the last two years we've been renovating our 100-year-old home. We haven't taken out loans and are doing everything ourselves, as money allows. So I've become very knowledgable and strategic about shopping for the materials we need to build our home.
This is what I love:
Menards' Rebates
I am not a coupon shopper. Heck, I rarely even check sales. But when it comes to Menards' rebates, I think they're well worth your time and money. The idea is simple: Purchase an item and, when you leave the register, stop at the customer service desk to pick up a rebate slip. Mail it in with your receipt and, some weeks later, you'll get store credit in the mail. Getting that money is basically like Christmas: it might not save you money immediately, but it will save you money on later projects.
There is also this magical time called 11% Rebate Week. In my area, it happens every few weeks in winter and several times during the spring and summer months. As the name suggests, you get 11% back on any purchase — no exceptions — when you mail in the rebate form. Shopping for large projects (like flooring or drywall) during these weeks has helped pay for multiple other smaller projects in our home over the years.
Range of Products
Since the store carries everything from pet supplies to clothing to home goods — in addition to the usual hardware store fare — it's a great place to cross a bunch of items off your list in once place. There is something to be said for not having to make different trips to multiple places to get your shopping done. Do I purchase pet food or deodorant from them exclusively? No. But it does mean that, if I run out of something, or one of my Amazon orders is delayed, I can grab what I need without having to head to Target or yet another store.
Customer Service
Between my husband and I, there isn't much we don't know when it comes to home repair. We don't tend to ask many questions, but when we do, they're REAL questions, and not just where to find some picture hangers. I've found that staff are ready for those heavy-hitting questions and aren't just teens hired for weekend work who don't know what they're doing. They also don't assume that, because I'm female, I have no clue what's what. Major bonus points for that.
Menards' Ads & Black Friday Sales
Menards publishes weekly print ads that list upcoming sales and available rebates for your area. Follow the link, select your area and the flyer will pop up outlining all the deals. Plus, they have great Black Friday sales. Simply put — be there early. This is the only Black Friday advertisement I know of that isn't leaked ahead of time on the internet. I check religiously every year.
The Nuts, Bolts & Screws Aisle
This aisle is extensive enough to make most adults cry and end up on the floor throwing a tantrum like a child. But, if you know what you're looking for, you can find even speciality items — like star tip construction screws in multiple sizes —something that can not be said for other hardware stores. Why are these screws so great? Because tools grip on to them better, and they don't strip as easily as traditional screws.
Oops Paint
Like most hardware stores, paint that is either returned by a customer, or mixed incorrectly by a store employee, is re-tinted then placed on the shelves for sale. So what makes Menards different? Each gallon is only $5.00! F-I-V-E-D-O-L-L-A-R-S, people! The quart and smaller sizes are only $1.00 or less.
I often find 3-4 gallons of a color that's not exactly what I wanted, but is close enough to change my plans and roll with it. Random cans are also perfect for painting furniture or other smaller projects, and I swear there's always a gallon of some white shade. They're all a great way to: a) get a stash of paint for next to nothing; and b) get expensive brands you might not otherwise want to spend extra money on.
Lighting
Lighting changes fairly quickly, and I find Menards stays on top of the trends. I regularly see things I like, without having to shop at a bunch of stores, or spend hours online. They also have cheap LED lightbulbs (4 for $2.00)! Things often go on sale (and even clearance), so you can find deal after deal if you start looking for red price tags.
Tool Selection
Because Menards carries less in the way of big brand names (though you'll still find some), they have a more extensive selection of tools and accessories: shelf space isn't taken up by multiple manufacturers of the same item. My husband gets lost in these aisles as he explores all the parts and accessories he never knew existed, and will make his projects that much easier.
15-Minute Pick-Up Parking
This isn't a spot in the store that many are aware even exist, but since entrance is encouraged through one door and exit through another, you can simply park in the 15-minute loading zone directly outside the exit door, hop in for yet another box of drywall screws and tape, check out and you get primo parking! Obviously you can load your car here too, but since folks rarely park in them, have no guilt about utilizing them for a quick run-in shopping trip!
Affordable Materials
Menards has a lot of cheap basics. For instance, you can buy a piece of 20" square birch plywood for $3, which can easily retail for $50 a sheet elsewhere. In our home, we've turned the plywood into flooring, bookshelves, cabinets and more. This makes Menards a go-to resource for low-price essentials for our home.
Do you have a reason to love Menards? They aren't everywhere in the country — folks who have them nearby are usually pretty dedicated to this hardware store meets home retailer. Let us know your thoughts below...