Kim's Before Photos: Work in Progress Bedroom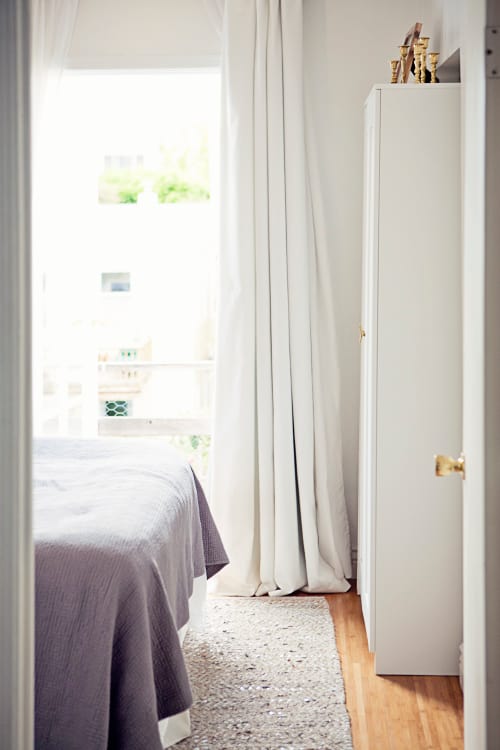 We've been living in our current apartment for about four months following a cross country move and a major downsizing that led us to shed many of our possessions. Thus far, we've focused most of our attention on furnishing and decorating our living/dining area as it makes up the majority of our apartment but I would love to create a bedroom that is a cozy retreat with a few personal touches to make it feel more like home.

Sitting in the bedroom, I take mental notes. I already have an idea of the direction that I would like to take it in but the tiny footprint of the room creates some challenges. We're currently using a chair on one side as a nightstand and a piece of plywood wedged between the mattress and box spring on the other. We have a great foundation for the bedding but I would love a more layered look. We're relying on the overhead lighting only, making it difficult to read in bed.
The details of the room that I am proud of are the layered curtains that effectively block the light at night and filter it for some privacy during the day; our beautiful neutral rug with metallic strips of leather woven throughout; and the simple white wardrobe that we dressed up with Anthropologie knobs creating some much needed storage.
What I would love to accomplish with the room would be to add some furnishings and finishing touches while still while maintaining the flow. Ideally we would create bedside storage by adding nightstands; find a home for the guitars; add a headboard to give the bed a more substantial, finished feel; bring in layered bedding to give the room a dose of color and pattern; and add a few more personal touches.
Resources: Rug, Poster, Dreamcatcher, Wardrobe, Knobs, Pillowcases, Curtains
(Images: via Kim Lucian)