A Pop-Up Bookstore Selling Only Women Authors Is On Its Way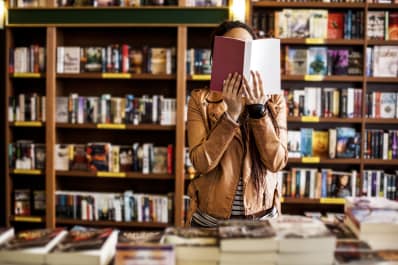 (Image credit: LStockStudio/Shutterstock)
A new pop-up bookshop is on its way to London, and it will only sell books by female writers, according to The Guardian.
Like a Woman will be open for business March 5-9, perfectly timed to celebrate International Women's Day and to mark the 100 year anniversary of the Representation of the People's Act.
Presented by Penguin, the pop up will also host a variety of live events and donate part of the proceeds to Solace Women's Aid, a non-profit that works to end domestic and sexual violence. The events include a live recording of a podcast, a magazine launch and a panel discussion.
"Women's voices being heard and taken seriously is key to achieving gender equality, and with the Like a Woman bookshop we're making room for those voices to be elevated and celebrated,"Penguin Random House creative manager Zainab Juma said to The Guardian. The store will stock titles from over 200 women authors, breaking them down into categories like "Extraordinary Lives" and "Women to Watch."
"To create a unique bookshop and event space that is dedicated to a full range of women's voices, experiences and ideas is tremendously exciting," Waterstones festival manager Lucy Grainger told The Guardian. And while the event will only be popping up in London, if you're looking to pick up a few books and celebrate International Women's Month you can always seek out your local feminist/women run independent bookstore.
h/t Jezebel