IKEA's New Summer Collection Makes Us Want to Live Outside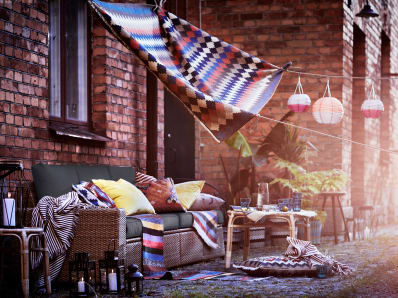 (Image credit: Courtesy of IKEA)
A few places around the country had little tastes of warm weather this week, and that only makes the thirst for summer all the more real. Thankfully, IKEA is here to feed our fantasies by revealing its 2018 summer collection—and you're never going to want to go back inside.
(Image credit: Courtesy of IKEA)
The collection features playful hues and patterns that really work with the summer in the city vibes. And whether you have your own dedicated outdoor space, chill in public parks, or take trips to the beach, there's a little something for everyone.
(Image credit: Courtesy of IKEA)
There's a strong theme of staycations, showing that summer doesn't have to be about hopping on a plane and heading somewhere far away—that vacation vibes can be in your backyard (or roof, or local swimming hole). The colorful SOMMAR 2018 tablecloths ($14.99) and dish towels ($4.99/2pk) bring summer vibes to any space, while the colorblocked SOLVINDEN LED pendant lamp ($59.99) shines a light on the situation.
(Image credit: Courtesy of IKEA)
There are also simple ceramics to balance out the bold colors and patterns of the textiles; the SOMMAR 2018 tumblers, bowls, and mugs ($1.99 to $3.99 each) are dipped in gray or pink to add some interest.
(Image credit: Courtesy of IKEA)
An airy mesh topped table, KROKHOLMEN ($34.99), is ideal for outdoor spaces, as water will drain right through. IKEA is a plant parent enabler with this collection, as there are some great pot and stand solutions from the Swedish retailer. There are standing and hanging versions of the stoneware SOMMAR pot ($4.99 and $12.99), as well as patterned baskets ($14.99 to $24.99) and a steel stand in sleek black ($19.99).
SOMMAR 2018 is currently rolling out at stores across the US—check your local IKEA for stock information.