Day 8: Choose Your Paint Color & Think About a Decor "Pairing"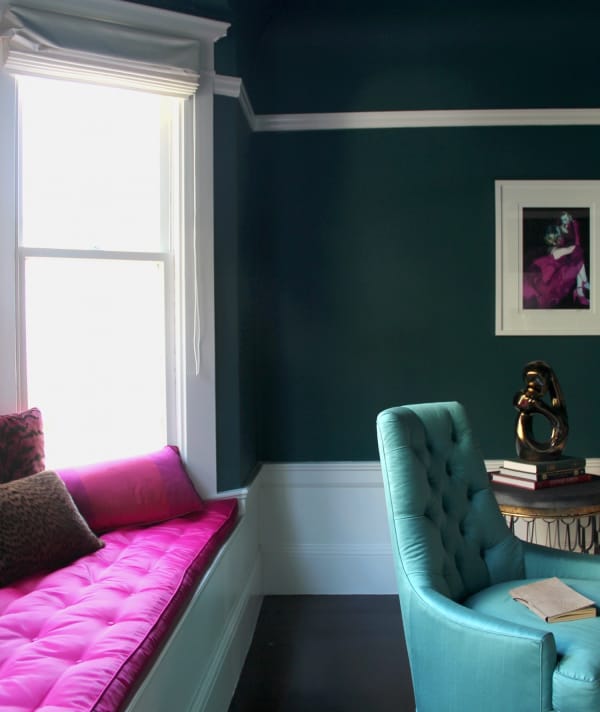 Day 8: Monday, August 12
Assignment: Choose Your Paint Color & Think About a Decor "Pairing"
Ok, so now that you've got a clean room (good job!) and a stack of paint chips (if you are painting, that is), today's assignment should be a breeze. It's time to select the color for your upcoming paint job and determine a decor "pairing" (to borrow an oenophile concept) to either buy or diy. Let's break it down...
Today's Assignment:
• Choose your paint color: If you are painting as part of your Style Cure, now is the time to make the call on the color. This is an exciting moment! If you collected your chips this weekend, I'm guessing that you already have narrowed things down to your favorite. If not, take some time today and go through them again, look at them next to existing items in the room, tape or pin the swatches up in a few spots and see what speaks to you.

Don't be afraid to embrace what feels right. You can be confident that you are ready to choose. During the first seven days of the Cure, you've been doing quite a bit of really looking and thinking about design, while taking and collecting appealing images. You already know what you want and now, you just have to name it.

Please tells us (and link if you can) to what you are going to go with in the comments and congratulations! You've just taken a big step toward making your new room a reality.
Think about a Decor "Pairing": While painting is probably the most powerful tool in a room refresh, your Cure will be more successful if you take on (at least) one other update to work on that will help to "complete" the room, just as a well-chosen wine does for food. This decor "pairing" can be large or small, a purchase or a diy project. Tomorrow, we can get into those details.

For today, just think about what your room is most lacking in terms of visual depth (examples: an accent color, varied texture, more light, a dose of bold pattern) and/or what it really needs to be more comfortable (examples: curtains you can close at night, a standing lamp to read by, a place to store the magazines, cushy pillows for napping on the sofa). The goal is to come up with a decor "pairing" that will attempt to fulfill some of these needs for the space.

For instance, if you are lacking texture AND need a place to hide the remotes, you might end up looking for a vintage woven basket. If you need some privacy from your neighbors and more pattern, sewing up some striped curtains might do the trick. If the bathroom floor is chilly and you need to balance all the white fixtures, a small bright rug might be in your future, For now, don't worry about the exact details or specifics of products or projects, just decide on the rooms needs that you'd like to try address and what you think will best remedy them.



The Style Cure Calendar:
• Download our PDF to see the full upcoming schedule (and print it out if having a hard copy is helpful to you)
Liveblogging the Style Cure: Follow along in real time with Apartment Therapy team members who are doing the Style Cure this month:
Join The Style Cure: Click Here to Sign Up
Questions? Comments? Pictures? Email us about your progress at stylecure@apartmenttherapy.com
Get the Book: Apartment Therapy's The Eight Step Home Cure by Maxwell Gillingham-Ryan


Follow and contribute on Instagram, Pinterest and Twitter! The Style Cure: #stylecure
(Image: )
Apartment Therapy supports our readers with carefully chosen product recommendations to improve life at home. You support us through our independently chosen links, many of which earn us a commission.