A Dreamy New England Houseboat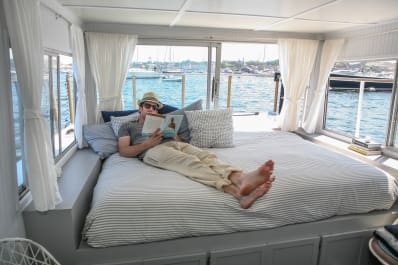 Name: Kristen Coates & Chris Wyllie
Location: Newport Harbor, Rhode Island
Size: 34' Houseboat
Years lived in: 18 months; owned
It all started with a wildly imaginative dream, sketched on a cocktail napkin one summer night in 2011. Chris and Kristen wanted to design a boat to use as a creative outlet and a place for entertaining summer guests. Never mind the fact that neither had experience with boat building. The couple, artists and gallery owners who divide their time between Newport and New York, aren't ones to shun a challenge, no matter how unachievable it may seem.
The ideal vessel they sketched during dinner overlooking Newport Harbor became a reality six months later. Kristen shrieked with excitement when she laid eyes on the 1969 houseboat on a freezing cold day in Newburyport, Massachusetts. Within a week they were making plans to transport her back to Newport, Rhode Island.
That March, the new boat owners took a road trip to Miami in search of inspiration for the renovations that lay ahead of them and to visit Kristen's father, a master carpenter and builder. He offered much insight into how they could execute their designs. When they returned to Newport, fresh with ideas, Kristen recalls visiting the boat and thinking "What have I gotten myself into?"

The boat needed lots of work. She had rotten wood and leaky windows. She needed new plumbing, wiring, floors and walls. They found vendors at a Boston boat show to come check her out and give them estimates for repairs. "One quote for plumbing was six times what we paid for the boat — the amount we had set aside for total costs including renovations, mooring and insurance. When the vendor left the boat yard, I was standing in front of my boat in shock, with black leather boots and a fur coat, and an old salty sailor walked by and said 'nice boat shoes.' I had tears in my eyes and went home and called my dad."

This is when the hard work began. Kristen's father intended to come for two weeks and stayed for six. He knew exactly what needed to be done to bring Chris and Kristen's vision to fruition. He took on the role of foreman and began directing them and their team of friends and family who came to help. The boat was gutted, the stringers inside the hull reinforced, the floors and walls rebuilt. The work went on well into the evening on many cold New England nights. Slowly, the interior began to look more like the inside of an apartment and less like "a wet cardboard box." "My father is incredible," says Kristen, "and without him there is no chance I would have had the guidance or knowledge to do half of what was done."
They put the boat in the water just before Memorial Day in 2012, and christened her Belafonte. "It seemed like a good vessel name. I love Harry Belafonte and his music," Kristen explains. "The Life Aquatic had a magical boat named Belafonte and it seemed to make sense; an ode to Wes Anderson and Bill Murray who were here filming Moonrise Kingdom, which Chris helped make some props for." They still had work to do, but over time, they have put it all together, little by little; adding curtains, fabrics, sheets, pillows and cushions. This summer Chris and Kristen began renting Belafonte for overnight stays, dinner parties and spa days. When the boat isn't rented, she is the ideal setting for Chris and Kristen to entertain their ever-present stream of summer guests.

Moored in the center of Newport Harbor, Belafonte is easily accessed by a water taxi that leaves from downtown Newport. The exterior is a classic navy blue and white. The deck rails are beautifully wrapped with rope. The interior is filled with light that bounces off a gleaming white ceiling and white beadboard walls. An emerald green sideboard adds a pop of color and doubles as a sink and storage for food and tableware. The bed, bordered by windows on three sides, is a perfect spot to relax and read a book or drift off into slumber.
The upper deck seats 12 for alfresco dining and has a blue and white canopy – a deconstructed spinnaker – that can be adjusted in countless ways to create shade as the sun shifts throughout the day. Seeing it billow in the wind evokes the feeling of a dreamy island getaway and adds a bohemian spirit to Belafonte's mod design. Chris and Kristen say that everyone who steps aboard falls in love with Belafonte's charm. They're right; she's got the stuff that dreams are made of.
Apartment Therapy Survey:
Our Style: A mixture of modern and vintage with a bohemian spirit. Our roots are clearly in New England, but our ideas are way up in the sky.

Inspiration: As artists that split our time between Newport and New York, we have a lot to draw from in our day-to-day. When approaching the boat design we looked through everything from fashion magazines to old yacht restoration books. We have culled a collection of design solutions from the hardware store, advice from fellow boating friends, and of course my father, Thomas Coates.
Favorite Element: The built in bed for giving us such a huge place to relax and also a place to store tons of stuff. Also, the upper deck for entertaining; there is no place like it for a sunset.
Biggest Challenge: Maintenance. It is a constant battle with the salt from the sea. We repaint and replace and repair much more than I would like to admit!
What Friends Say: We have been so fortunate to have the support of friends, some even coming to put in hours of work on the boat during our renovations and upkeep. Everyone that steps aboard falls in love with Belafonte's charm.
Biggest Embarrassment: We still need 10 coats of paint on every surface and about 100 feet of molding. We used to say "in year two," meaning we would be more professional by this summer… now we just snicker and say "in year three or four." Owning a boat, like a home, is a constant labor of love.
Proudest DIY: My father built the entire upper deck in a few hours by eyeing the project on his last day in town before going back to Florida.
Biggest Indulgence: The bathroom. As a rule, marine heads can smell terribly and be confusing to operate. From the onset, we wanted our shower and bathroom to be closer to being at home than at sea. My father made the walls waterproof while still allowing us to remove panels should we need to continue work on the electrical or plumbing system once in place.
Best Advice: Make a house or a houseboat a home by filling it with all the things you love.
Dream Sources: Travel, yard sales, reading, Pinterest.
Resources of Note:
PAINT & COLORS
Exterior – Interlux: Blue Glo White
Exterior – Interlux: Kingston and Seattle Gray
Interior – Muralo: White
Sideboard – Muralo: Aqua Waters
FLOORS

Shelton Hickory Laminate Flooring – Home Depot
WALLS & MOULDING
Moulding – Veranda vinyl trim
Walls – Marlite Supreme Wainscot
ENTRY - WHEELHOUSE

Paper megaphone – Houseboat warming gift from Kristen's mother.
Anchor Mat – Pleasant Surprise, Newport, RI
Wooden hearts with mooring numbers on them – Paris, France
Skylight with crackle glass – Newport Nautical
Igloos Marine Cooler – West Marine
Del's photo – Alexander Nesbitt
Wine bucket baskets – West Elm
White Marine VHF Radio – Newport Nautical
Sunny Life Blue Radio/MP3 Player – Uncommon Goods
KITCHEN
Glass Knobs – Anthropologie
Sideboard – Found at thrift shop, designed by Kristen and Chris, refinished and custom-made for Belafonte by Cabinetmaker Craig Willy from the Strip Joint in Saunderstown, RI.
Anchor tea towel – Indulge by Mersene
Floral Burst Melamine Plates – Target
Whale Melamine Platter – Thomas Paul
BEDROOM
Build-in Bed – Thomas Coates Custom Building
Thanks, Chris & Kristen!
(Images: Jacqueline Marque )
• HOUSE TOUR ARCHIVE: Check out past house tours here.
• Interested in sharing your home with Apartment Therapy? Contact the editors through our House Tour Submission Form.
• Are you a designer/architect/decorator interested in sharing a residential project with Apartment Therapy readers? Contact the editors through our Professional Submission Form.