Here's How Celebrities Celebrated Valentine's Day, According to Instagram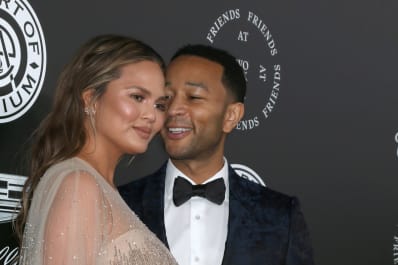 (Image credit: Kathy Hutchins/Shutterstock)
With red and pink filling the streets, Valentine's Day filters swarming our social media, and heart shaped candies, people everywhere (including some of our favorite celebs) took to social media to profess their sweet love to their babies, parents, and soulmates—even if your soulmate is you.
Amy Schumer surprised her Insta followers today with photos from her surprise wedding to beau of a few months, chef Chris Fischer. The couple got married in Malibu on Tuesday, according to Us Weekly. Congrats to the newlyweds!
Halle Berry is embracing self-love this season, wishing whoever comes across her serene montage of family day at the beach, a "Happy V Day or Me Day... whichever you prefer. Hope you're with someone you love today."
Zoe Saldana posted this adorable roses-written message from her hubby, Marco Perego, reminding her that "you are the reason." Fun fact: when the two wed back in 2013, Marco took on Saldana's last name making him Perego-Saldana and she, Saldana-Perego.
It seems like Barack and Michelle Obama are enjoying life post White House! The former President wished his wife, Michelle, a Happy Valentine's Day, reminding her that she makes "every place and every day, better." Not to be outdone, Michelle made Barack a playlist.
Love birds Jessica Alba and husband Cash Warren squished cheeks, locked lips, and swiped right for the best Valentine's Day filter social media had to offer.
Imagine getting dressed for a family photo and boom, you're engaged! Singer Melanie Fiona posed for a seemingly normal denim on denim photo op with her singer + songwriter boyfriend, Jared Cotter, where he surprised her by popping the question!
The self-proclaimed King of Instagram, Will Smith posted a sweet photo of he and his wife, Jada Pinkett Smith. Back in December, Smith wrote in honor of their 20th anniversary, "I have learned that… Love is Listening. Love is Giving. Love is Freedom."
John Legend and Chrissy Teigen gave a couples rendition of the Valentine's Day anthem, L-O-V-E by Nat King Cole. Chrissy, I think you may have missed your true calling.
If you experience moments of loneliness on days like February 14th, always remember, Janet Jackson loves you. In a video to her fans, J.J. wishes all a Happy Valentine's Day, thanking them for their unwavering support. You're welcome, Ms. Jackson.
Jennifer Garner and her fur baby, Birdie, wished everyone in Instagram world a Happy Valentines day. Birdie even had a few roses from a puppy admirer, perhaps?