Back to Blue: At Home With a DIY Master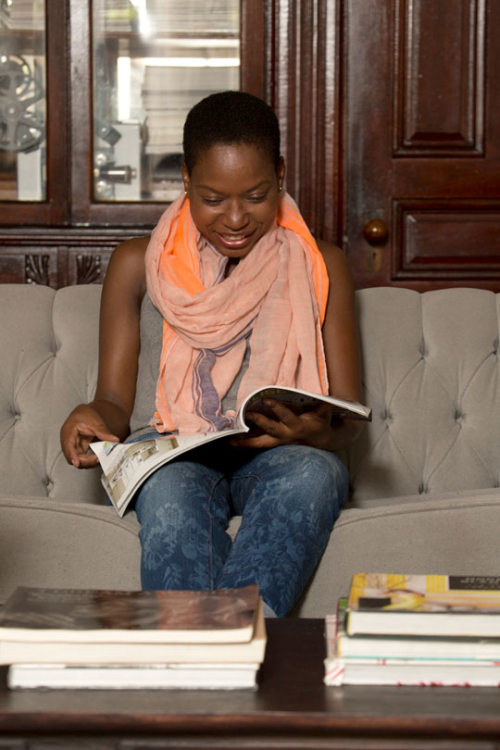 We first met Sofia last month when her gorgeous Brooklyn apartment was featured in a House Tour. We loved her style, so we asked her how she likes to relax at home.

We gave Sofia our "Back to Blue" Questionnaire:
What do you think is the Color of Fall 2013?
For me this year's fall color is emerald green. It is a vibrant color that puts me in a good mood. I recently bought a pair of emerald green pants that I pair with a denim shirt. It is just the right pop you need.
What do you like to serve when friends come over?
I go overboard when friends come over because I believe variety is the spice of life. I like to ensure there are defined courses and definitely a dessert. For a fall dinner party, I would say mushroom stuffed with wild rice and crab followed by hearty stew. Finally, dessert speaks to my heart so anything served warm with a scoop of vanilla ice cream will hit the spot. My good friend Crystal will bring her special rum cake, always a hit.
What do you do to relax at home?
When I'm relaxing at home, it's a design overdose. I love to be watching HGTV while leafing through my favorite interior design magazines and eating Oreos.
Essential song for your 'chilling' playlist
Alice Smith, She is my new favorite album. The entire album back to back helps me to relax. If you throw in John Legend – Stay with Me & Refuge (When It's Cold Outside), Adele - Rolling in the Deep & Chasing Pavements and Maxwell - Let's Not Play the Game & Fist Full of Tears and you have the perfect combination.
Favorite book to re-read on a lazy Sunday
My favorite books include: Breath, Eyes, Memory by Edwidge Danticat and The Bluest Eye by Toni Morrison. However, on a lighter note I enjoy re-reading and referencing A Field Guide to Fabric Design: Design, Print & Sell by Kim Kight.
What does Fall mean for you?
Fall is change. The change of the season is always magical. I really like starting to think about Thanksgiving and getting geared up for Christmas decorating. Deck the Halls! It's never too soon to deck the halls.
Describe your perfect Sunday
The perfect Sunday would be going to a nice brunch with friends and then exploring Brooklyn Flea where I would grab a doughnut from Dough and leave with arms full of items.
What's your day job and what's your creative release?
My day job is working in banking and my creative release is crafting the latest DIY project. This fall, after all my renovations, I will be working on refinishing a farm table I just purchased.
How would you describe your style?
My clothing style is eclectic. I like bright patterns and vibrant colors but I also like the classic solid color palette. I like the equestrian look and can be dressed in riding pants one day or a frilly vibrant dress the next. Sometimes, I keep it All American with solid colors and jeans. Other times, I bring out my African prints.
Whose closet would you raid if you could?
Michelle Obama. Everything she wears is always flawless. Every Item from Tracey Reese especially the dresses. Everything she designs moves so well.
We partnered with Gap to explore casual Fall style for our Back to Blue series. Check out their Fall line here.
(Images:
Pablo Enriquez
)