Back to Blue: At Home With a Bookbinder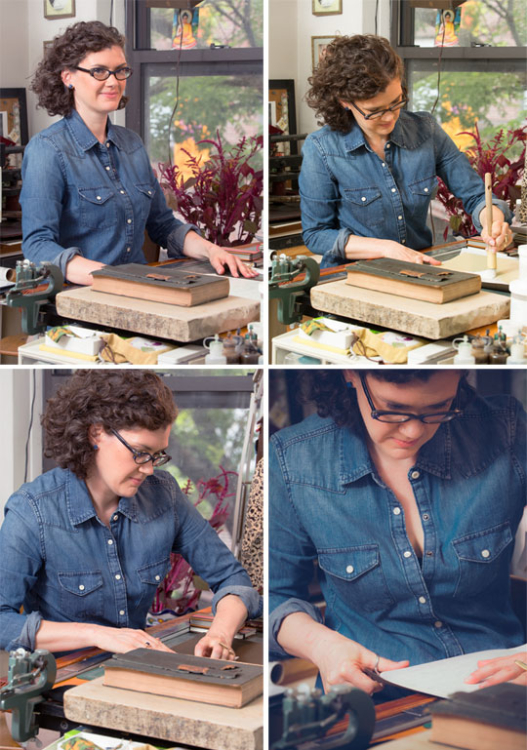 We first met Sophia in June, when her "bookish" live/work home was featured in a House Tour. We loved her style, so we asked her how she likes to relax at home.
We gave Sophia our "Back to Blue" Questionnaire:
What do you think is the Color of Fall 2013? Every shade of blue!
What do you like to serve when friends come over? I enjoy cooking and experimenting with new recipes using seasonal produce from the farmers market which is a short walk from my apartment.
What do you do to relax at home? Take off my shoes, lounge on the couch, practice singing. Nico usually greets me as soon as I get home and follows me around.
Essential song for your 'chilling' playlist: Billie Holiday, Stormy Weather.
Favorite book to re-read on a lazy Sunday: The Wind-Up Bird Chronicle by Haruki Murakami; James and the Giant Peach by Roald Dahl.
What do you wear when you're relaxing at home? My silk robe from Thailand. Kidding. Anything comfortable would do.
What does Fall mean for you? Fall means the abundance of apples, the many colors of leaves and crisp breezy air. Wearing a lot of jackets and scarves.
Describe your perfect Sunday: Waking up late, listening to gospel music, organizing for the week. Sunday is a time for recharging, relaxing and meditating. Having brunch with friends is nice as well.
What inspired you to become a bookbinder? I love how versatile bookbinding is with the variety of materials and techniques. It encompasses printmaking, letterpress, papermaking, leatherwork. Books are like sculptures. I'm also a book conservator so I know historical book structures. I took an elective in bookbinding in art school with a great and enthusiastic teacher. I grew up with art, both my parents are artists.
How would you describe your style? Modern meets vintage.
Whose closet would you raid if you could? Vivienne Westwood and Miuccia Prada.
We partnered with Gap to explore casual Fall style for our Back to Blue series. Check out their Fall line here.