Back to Blue: At Home with an Artist and a Musician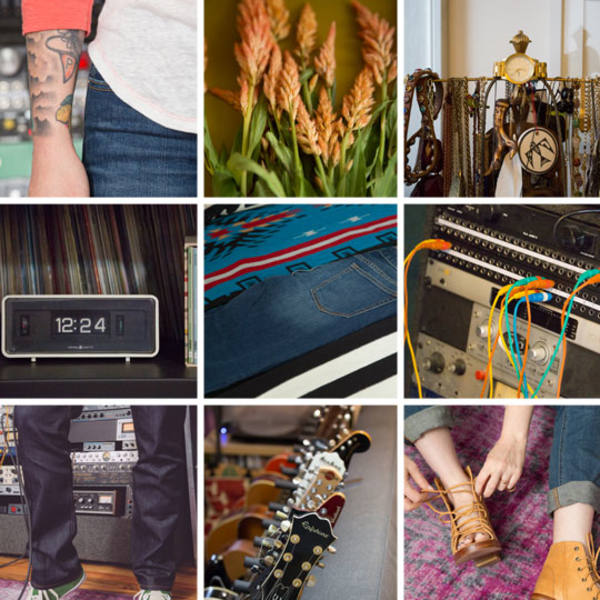 We met Joan and Matt last year, when their "joyously eclectic" home was featured in a House Tour. We loved their style, so we gave them our Fall Back to Blue questionnaire and asked them how they like to relax at home.
We gave Joan and Matt our "Back to Blue" Questionnaire:
What do you think is the Color of Fall 2013?
Matt
: Corny and obvious though it may be, I've gotta go with the bright oranges and yellows of fall foliage.
Joan
: Wheat — like, bright, yellowy-tan wheat — and Crayola blue-green.
What do you like to serve when friends come over?
M: Joan and I have recently started making cocktails at home, and we're always keen to try something out on our friends. I love Beecher's cheese curds, but I've usually eaten all of them by the time any of our friends shows up. Sorry, friends.
What do you do to relax at home?
J: It's a different deal than "relaxing", but I meditate. When I am brain-dead from having stared at my computer for 49320483 hours, I will often stare at another screen—the TV—with some Chinese delivery from Brooklyn Wok Shop. I need to exercise more and stare at screens less. On days when I accomplish doing that, my whole scene improves dramatically.
M: My morning coffee-making ritual is usually the most relaxed part of my day. I've got the full-on coffee nerd setup: scale, burr grinder, variable temperature electric kettle, Chemex. It's a complex and precise process, but it has consistent, repeatable and immediately gratifying results.
Essential song for your 'chilling' playlist:
M: Because so much of the work I do is music-related, "chilling" is often synonymous with "not listening to any music." But when I'm trying to take the edge off while doing non-musical work, I'm inclined to put on Forever Breathes The Lonely World by Felt.
J: I like to watch Antiques Roadshow before going to sleep. Therefore, I am going to name the Antiques Roadshow theme song as the essential song for my chilling playlist.
Favorite book to re-read on a lazy Sunday:
M
: I've had a copy of Frank O'Hara's
Lunch Poems
on my nightstand for the last decade or so, and I pick it up whenever I want to be extra-excited about the fact that I live in New York.
J
:
The Power of Coincidence,
by David Richo;
A Thousand Names for Joy,
by Byron Katie;
The Untethered Soul,
by Michael A. Singer.
What do you wear when you're relaxing at home?
J: My incredible mother-in-law-to-be got me this fantastic chevron-striped Roberta Freymann caftan at a sample sale earlier this year, and I wear the crap out of that at home. When it gets cold, I will layer it with my rainbow-striped Snuggie and some very old sweater leggings. I also pair it with a lightweight navy robe with an embroidered rainbow dragon on the back that used to belong to my mother. I should think about adding head scarves to the mix to take the look from less Bonkers Guru to more Little Edie.
M: An oversized cotton t-shirt and boxers, unfailingly.

What does Fall mean for you?
J: Fall is, hands down, my favorite time of year except for holiday-time. It is when one gets to start dressing awesomely again. It is when one can go outside and be energized by the crispy coolness of the overcast breeze. Fall is pumpkin-flavored things and crunchy leaf-walks and better moods on account of the lack of heat. The beginning of Fall is the beginning of the best half of the year.
M: Fall is far and away my favorite season. First and foremost, it means relief from unbearable summer heat. It also means the beginning of the holiday season; this year, my 30th birthday falls on Thanksgiving, which means I will eat ALL the mashed potatoes.
Describe your perfect Sunday:
M: My most perfect Sundays are those when Joan and I are on vacation somewhere. We love traveling, especially to cities, especially in fall and spring when the weather is perfect for walking around all day. When we're not out of town, weekend days are a rare opportunity for us to slow down a bit, do some shopping, watch some TV, and relax. Though, realistically, rarely a Sunday passes by when I don't have a recording project and/or Joan doesn't have work to get caught up on.
J: Normal "perfect Sunday" entails getting a huge jump on work and getting the house super clean, and painting and having time with Matt.

How would you describe your style?
M: Functionally, I'd describe my style as: dark jeans, structured shirt, fun socks, sneakers. I went "all fun socks" last year, and I haven't looked back. It's only in the last five years or so that I've settled into something that's both comfortable AND presentable.
J: My style these days is pretty classic in form, neutral in palette and veers masculine in shape.
Whose closet would you raid if you could?
M: My friend Nick, who runs the excellent Brooklyn record label Godmode, is always impeccably dressed. Sadly, I am too large and misshapen to fit into his clothes, but I'd certainly raid his closet for ideas!
J: Oh, if I could raid Jenna Lyons' or Alexa Chung's closets, I would be a pig in sh—wait, my family told me not to curse on the internet anymore. I would be really, really happy.
We partnered with Gap to explore casual Fall style for our Back to Blue series. Check out their Fall line here.