Owning a Famous Property Has Its Downsides: American Horror Story House Owners Suing Over Tourists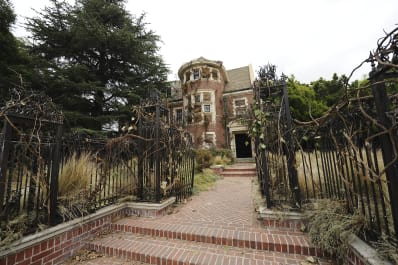 (Image credit: FX)
Have you ever thought how cool it would be to own a famous house recognizable from popular culture? Maybe think again. The current owners of the L.A.-located Rosenheim Mansion, AKA the famous haunted house featured in the initial season of American Horror Story, are way over the novelty.
In fact, they're suing the previous owners for not giving them a heads up about how often the house is visited by fans of the horror anthology. Apparently it's gotten to the point where the house is burglarized on a regular basis. Who knew AHS fans were so overzealous, despite the fact that season aired literally seven years ago?
Rosenheim Mansion is a bit of a Hollywood darling, having been featured in several films and TV shows, including Spiderman, Seabiscuit, The X-Files, The Twilight Zone, Six Feet Under, Bones, Dexter, and Buffy the Vampire Slayer, though its icon status was certainly cemented by the horror anthology.
Present-day owners Ernst Von Schwarz and Angela Oakenfold find themselves the unwilling participants of unofficial Hollywood tours, with scores of tourists taking selfies outside the house, shooting video, and even scaling the walls and/or trying to break in, in some cases. Teens frequently climbing the outside of your house is bound to lead to some unusual wear-and-tear, I would assume.
"We have had several break-ins, Oakenfold told CBS News. "We have had on three or four occasions just in the last year, had to call the police."
A few years ago, a similar situation came to a head at the famous Goonies house in Astoria, Oregon. In the summer of 2015, the owners started covering their own home with blue tarps to discourage tourists from coming to check it out. I have to admit, I'm part of the problem, because I went to visit it a year later and it was awesome all the same.