We Compared Prices for 25 Items at Home Depot & Amazon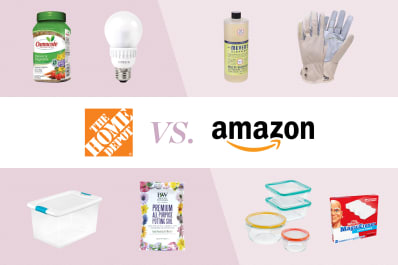 We all know spring is the season for growing: grass, flowers, trees…and to-do lists. After a winter of cocoon-like inertia, it's time to get busy deep cleaning, organizing, fertilizing and mowing. So to get the ball rolling, we made a list of some of the most essential things you'll need, then compared their prices at two mega-stores known for their bargains: Home Depot and Amazon.
Here's how they stacked up. In several cases the stores match each other's prices, but ultimately Home Depot has the most bargains. There's not much rhyme or reason to it — it's not like one store is cheaper across the board for tools or household cleaners than the other. It just depends on what you're shopping for, so it pays to shop around.
Note: Prices are subject to change, and are accurate as of March 1, 2018.
And if you want your stuff delivered, Home Depot offers free shipping on most orders over $45. For Amazon, free shipping is practically a given for Prime members, though there are some items that require a minimum purchase or are sold through other retailers that do charge a shipping fee.
Storage & Organization
1. Wire Shelving Unit
When getting your pantry or garage in order, having plenty of shelving is key. This heavy-duty unit is similar to the ones used in commercial kitchens, and able to hold a whopping 600 pounds per shelf. Plus, you can adjust the shelf heights to suit your needs and easily assemble it without any tools. There are a variety of sizes to choose from. Get it at the Depot and you'll save 50 bucks.
2. Plastic Storage Bin
Sort your gear into plastic tubs and you'll not only keep things organized and easy to find, you won't have to worry about dust. Amazon only sells these in a six-pack, but it's surprisingly not any cheaper to buy them in bulk. You'll save $5 if you buy six at Home Depot.
3. Adjustable Wall and Door Rack
Adding shelves behind a pantry door can add tons of real estate to your kitchen, and Amazon sells this versatile unit for about $6 less than Home Depot.
4. Plastic Food Storage Set
If it's finally time to toss out your mis-matched, cracked, stained (and possibly BPA-loaded) plastic containers, get a set of Snapware. It's a Wirecutter favorite for having robust lids. The prices are nearly the same at both stores, but Home Depot will save you 44 cents.
Cleaning Supplies & Household Basics
1. All-Purpose Cleaner
A solid all-purpose cleaner is a must for cleaning grease from stovetops and handprints from walls. Mrs. Meyer's is a best-seller on Amazon, and clocks in several dollars cheaper than Home Depot if you buy it on Prime Pantry. However, you'll have to make it an "add-on" to an order of $25 or more. If you're not a Prime Pantry user, you can get it at varying prices from different sellers, or order Amazon's two-pack for $11.90.
2. Magic Erasers
These white foam squares really are magic, able to wipe away marks and smudges from a ton of surfaces. They crumble quickly though, so it's a good idea to stock up. They're a little cheaper at Amazon, but they're listed as an "add-on" item so they must be bundled into an order of $25 or more.
3. Drain Cleaner
Clogged drains are an annoying fact of life. If yours are running slow, this foaming drain opener gets great reviews. It's only available in a two-pack from Amazon, but even so it's still more expensive per unit than Home Depot.
4. Hardwood Floor Cleaner
Word on the street is Swedish Bona floor cleaner is one of the best at cleaning hardwood floors without leaving a dull residue. It doesn't need to be rinsed either. Both stores offer it at the same price, but Amazon has more cost-saving buying options for the microfiber cleaning pads that go with it.
5. Zep Commercial Stainless Steel Polish (14-Ounce)
Dishwasher, refrigerators, stoves, trash cans. Everything is made with stainless steel these days. But we all know stainless steel doesn't mean streak-less steel. The best way to get rid of all the gross-looking smears and smudges is with stainless steel polish, and this brand is about half the price at Home Depot.
Tools & Hardware
1. Cordless Drill
Whether you're hanging shelves or assembling IKEA furniture, a cordless drill/screwdriver will make the task far more pleasant. After putting several models through their paces, The Wirecutter gives this model top marks for being "small, light and powerful."
2. Multi-Project Drill Kit
You'll need some bits to go with that drill/driver, and this set has everything you can possibly want, and it's compatible with most standard power drills.
3. Household Hardware Set
This handy kit has many of the screws, nails, anchors and picture hangers you'll need to conquer your household projects. Home Depot sells it for a dollar less than Amazon, and offers far more hardware sizes too, making it a one-stop shop.
4. Staple Gun
Thinking of finally tackling that re-upholstering project or fix the weather-stripping around the door? You'll need a staple gun, and both stores sell it for the same price.
5. Heavy Duty Staples and Brads
Although the staple gun is the same price at both stores, the staples and brads that go in them are a bit cheaper at Home Depot.
6. Duct Tape
Good duct tape can fix almost anything, and Gorilla is widely considered one of the best. It's never a bad idea to keep a roll (or two) on hand at home.
Lawn & Garden
1. Lawn Edger
If you have a lawn, you need an edger, and this battery-powered version doesn't require tanks of gas or unruly cords. The Wirecutter applauds it for being "as powerful" as a gas trimmer, able to "cut through thick 1-inch bamboo like it was grass." And if you get it at Home Depot, you'll save loads.
2. Push Reel Lawn Mower
If you're in the market for a new lawn mower, and your patch of grass is small enough not to require a gas-powered version, this is the one to get. The Wirecutter says it has the "cleanest cut, the widest cutting path, and jams the least of any reel mower, and its unusually tall 3-inch max cutting height makes it more versatile for different grass types." Amazon and Home Depot sell it for the same price, but Amazon's doesn't come with a grass catcher. If you want one, you'll have to pony up $20.99.
3. Self-Propelled Lawn Mower
Big lawns need mowers with some power behind them, and Honda is the gold standard for quality and reliability, according to The Wirecutter. At over $500, buying one is quite an investment, but you'll save about $50 if you buy it at Home Depot.
4. Watering Can
A good watering can makes the dull, repetitive task of watering your potted plants a lot more pleasant and a lot less messy. This one gets great reviews from gardeners around the web for its large capacity, precision pouring, and versatile carrying handles. And you'll save a few bucks if you snag it on Amazon.
5. Plant Food
Gardeners swear by this slow-release fertilizer that works for a wide variety of indoor and outdoor plants, and it's half the price at Home Depot. Add a scoop when planting new plants, putting in the vegetable starts, or cleaning up your garden beds.
6. All-Purpose Potting Soil
If you're going to be adding a few more flower pots to your landscape, or maybe some more houseplants, you'll need some potting soil. This one gets high marks, and if you don't want to have to haul the heavy bag yourself, both stores will send it right to your door. The only caveat is it'll cost $7 more at Amazon.
7. StoneBreaker Gloves Garden Pro
You get what you pay for with cheap gardening gloves. If you're tired of yours getting holes after just a few uses, try spending a little extra on these durable gloves made with full-grain goat skin and sewn with double seams. They're one of Wirecutter's favorites, and the same price as both stores.
Lighting & Electrical
1. Extension Cord
Every house needs at least one (or three) extension cords, and this version is designed with a slim plug to let furniture be placed close to the wall. While Amazon carries this cord through an outside seller, it's over twice the amount of the Home Depot option.
2. LED Lightbulbs
LED lightbulbs can save a lot of money and energy over the course of a year, plus they last longer than incandescent bulbs. The Wirecutter rates this brand tops for being cheaper than most other brands, plus it's one of the brightest, has the widest dimming range and is the most accurate at rendering colors. It's only sold in packs of 4 or more. It's cheaper on Amazon, but you'll have to pay about $5 for shipping. It's not eligible for free Prime shipping unless you get the 8-pack for $34.80.
3. LED Outdoor Pathway Lights
A spruced up yard deserves to have a little light shining on it, and this pack of solar-powered pathway lights is an affordable and energy-efficient way to do it. Save a couple bucks and get them at Home Depot.
Apartment Therapy supports our readers with carefully chosen product recommendations to improve life at home. You support us through our independently chosen links, many of which earn us a commission.