8 Tips for A Greener Move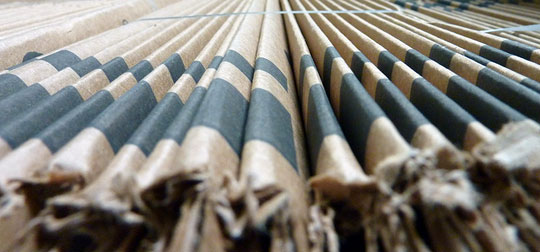 All week long,
Penske Truck Rental
is sharing helpful moving tips, tricks, and stories. We know a lot of our readers are concerned about the environment. So today, Penske Truck Rental is helping us plan a greener move. Use this as a reference guide for your next move!
From well-maintained diesel trucks to sustainable moving supplies, rest assured that the next time your life takes you elsewhere, you can feel good about your choice of moving and packing options.


8 Steps To A Greener Move
Consider renting a diesel truck instead of a gasoline powered truck. The U.S. Energy Information Administration estimates diesel contains 18% to as much as 30% more energy per gallon than gasoline and packs more power per gallon.
Reusing cardboard boxes is great, but the ones from your local supermarket only last so long (and no one wants their valuables spilled on the sidewalk). Buy cardboard boxes with the Sustainable Forestry Initiative seal, or better yet, rent boxes (like those from Rent A Green Box) for a multi-use alternative.
Rent a truck that's five years old or less. These trucks have the latest emission control technologies and offer improved fuel efficiency.
Moving blankets are a great reusable way to wrap large furniture and other bulky items, and many are made from recycled materials.
When you need to cushion delicate items within your boxes, biodegradable packing peanuts are the way to go, and luckily, they're easy to find these days. Your local Home Depot or office supply stores should have a ready supply (both cornstarch- and non-cornstarch-based biodegradable alternatives are available - speak to the supplier to see which is right for you).
Acrylic adhesive packaging tape is still the standard, but water-activated packaging tapes are a great non-plastic option for your move (think of the brown tape that seals most cardboard cartons that you receive in the mail). You can get these from companies like Recycled Packaging, or your local office supply store. It's worth the little bit of extra effort for this sustainable option.
Moving is a great time to "clean out the clutter." As you get ready to move, re-evaluate the items in your closets, kitchen, and anywhere else items are stored. Create three piles: keep, donate, and toss. Be diligent, and know that the items you no longer need will enjoy a "second life" in someone else's home, or as upcycled products. Consider donating your unwanted items to Goodwill.
Check to see if your truck rental company participates as an affiliate in the EPA's SmartWay Transport Partnership, a voluntary program focused on reducing emissions and improving fuel economy.
>>> Visit Penske Truck Rental for more moving tips!

(Image by Flickr user jchapiewski)